print
MEGI®-Ring-Elements - MEGIFLEX®-Discs
Assembled in a package applicable as compression-elements and tear-elements.
For a strong and hard mounting or isolation of structure-borne-noise for the light and heavy weight engineering as well as vehicle and railway vehicle construction.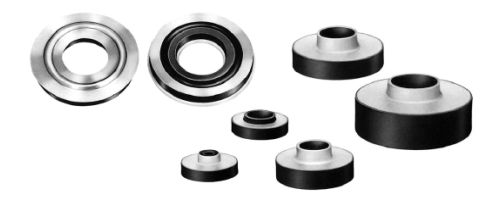 Type of load / -directions:

compression
tear (only assembled as in package)
impact
Shear (only Ring-Elements)
combinations (compression/tear)
Statically maximum load :
compression: 6,1 kN (Ring-Elements)
compression: 82 kN (Discs)
Types:
MEGI®-Ring-Elements are available in different sizes and Shore A-hardnesses
MEGIFLEX®-Discs are available in different sizes and in hardness middle

MEGIFLEX®-Discs and MEGI®-Ring-Elements are mostly assembled as packages pairwise and will be prestressed. So they are able to take tear forces and compression forces.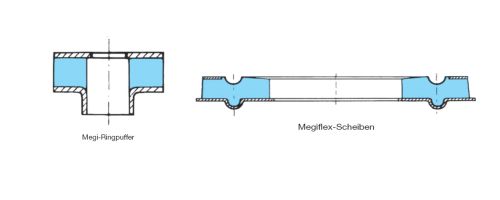 Details and technical datas like dimensions and loads are available from the chapter of the MEGI®-catalogue by following the link:

If you are looking for a special MEGI® part number you are welcome to use the search function on this page above.
Examples of use:
MEGI®-Ring-Elements for lower loads and lower shear forces
MEGIFLEX®-Discs for higher loads however shear forces are not permitted
Mostly assembled as packages pairwise for the mounting of:
axles / torque supports / leaf spring ends / hinged supports
cabins and stalls
superstructure
Special properties:
high specific compression-load ability
with the right construction arrangement a tear-off-safety mounting is possible
spring stiffness is adjustable by combination of several elements
assembly to impact-system-devices and tear-systems-devices are possible
Indications:
by arrangement pairwise against each other of two Ring-Elements or two Discs you can double the compression stiffness compared with a single element
higher constructions respec. higher arrangements have to be supported against shear forces