print
MEGI®-U-V-W-Shaped-Parts - MEGI®-Ceiling-Element
For the particular soft elastical mounting of light weight instruments, devices and gadgets!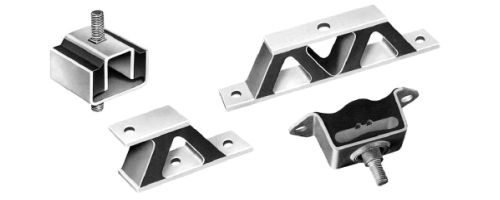 Type of load / -directions:

compression (V-W-Parts)
Shear (U-Parts)
Tear (only Ceiling-Elements)
Statically maximum load :
Compression: 600 N (V-W-Part)
Shear 1400 N (U-Part)
Tear: 750 N (Ceiling-Element)
Types:
These elements are available in
Shore A-Hardnesses as follows: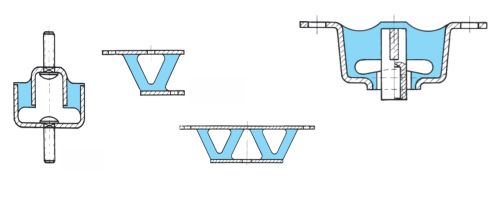 Details and technical datas like dimensions and loads are available from the chapter of the MEGI®-catalogue by following the link:

If you are looking for a special MEGI® part number you are welcome to use the search function on this page above.
Examples of use:
For the mounting or wall installation of sensitive.....
gadgets
equipment
devises
instruments
for fastening or suspension of tube systems or light systems
(Ceiling-Elements with tear-off-guard)
Special properties:
different stiffnesses in three directions (U-Lager)
soft mounting
Indications:
Strength category of the screw joint (U-Part): 5
No tear load of the elastomer permitted (U-V-W-Parts)