print
MEGI®-Cones - MEGI®-Cone Mounts
For the elastical mounting and tear-off safety mounting of machines, superstructures and cabins.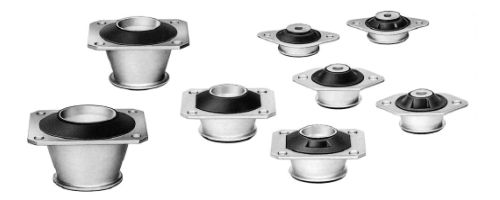 Type of load / -directions:

compression
tear
shear
combinations (compression, tear, shear)
Statically maximum load:
Types:
MEGI®-Cones are available with square flange and 4 fastening bores or
with oval flange and 2 fastening bores.
Due to ingenious forms of the elastomer body it is possible to realise different kind of stiffnesses in X- und Y-directions.
All types are available in hardness soft, middle and hard.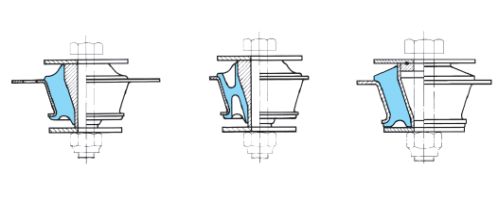 Details and technical datas like dimensions and loads are available from the chapter of the MEGI®-catalogue by following the link:
If you are looking for a special MEGI® part number you are welcome to use the search function on this page above.
Examples of use:
Mounting of:
cabins, chassis cabs
aggregates, electrical and combustion engines
compressors and pumps
vibrations machines
vehicle body superstructures
Special properties:
tear-off safe
tear loadable
mechanical end stops with ring washers
due to ring washers the loadcurve in axical direction is progressive
higher torque possible by using a full metall core
very good horizontal guidance
optional different horizontal stiffnesses possible
Indications:
strength category of the central screw joint: 5
other strength categories on request