print
MEGI®-Machine Mounts
For elastical mountings and partial tear-off safety mountings of all kind of machines and aggregates.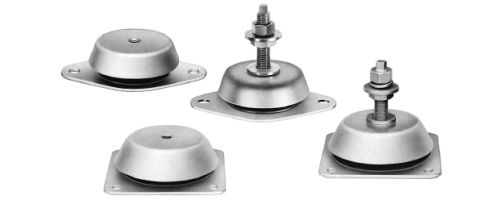 Type of load / -directions:

compression
shear
combinations (compression/shear)
Statically maximum load:
Types:
MEGI®-Machine Mounts are available with square flange and 4 fastening bores or
with oval flange and 2 fastening bores. They are mostly disposable on stock on call for a very short delivery time in types as follows:
Type without tear-off-safety guard
Type with tear-off safety guard
Type with height adjustment
Every type is available in hardness soft middle and hard.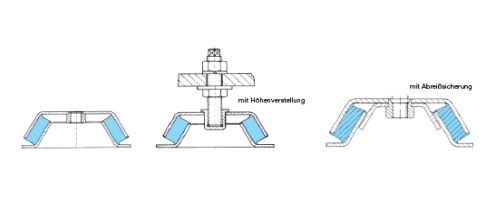 Details and technical datas like dimensions and loads are available from the chapter of the MEGI®-catalogue by following the link:
If you are looking for a special MEGI® part number you are welcome to use the search function on this page above.
Examples of use:
Mounting of:
eccentric presses
thermal power station, communal heating station
aggregates, electrical and combustion engines
tooling machines, machine of all kind
compressors and pumps
vibration machines
vehicle body superstructures
Special properties:
Ratio of the stiffness in vertical and horizontal direction is almost 1
very good horizontal guidance
by fastening of a pair of MEGI®-Machine Mounts in a row vertical and horzontal stiffness can be changed
Indications:
strength category of the central screw joint: 5
other strength categories on request
no tear load of the elastomer permitted
by using a height adjustment do not use the complete length of the bolt